By A Staff Writer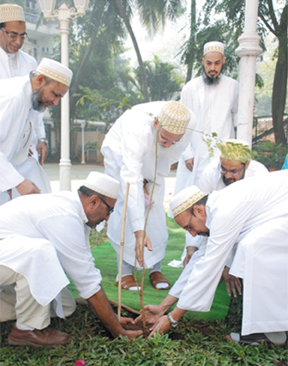 Mumbai: The Dawoodi Bohra community launched a massive tree-planting campaign here on February 16. Burhani Foundation will be planting five lakh trees around the world up to June 2013 coinciding with the 102nd birthday of the Bohra community chief Syedna Mohammed Burhanuddin. The first sapling""a gulmohar (Mayflower tree)""was planted in Saifee Mahal, the headquarters of the Syedna by Maulai Mufaddal Saifuddin, heir apparent of Syedna. The programme will be under the supervision and guidance of Tree Authority of India.
PRO Mr. Qureish Raghib informed Islamic Voice over phone that the programme also coincides with the completion of fifty years of Syedna as Dai al-Mutlaq of the community. The Burhani Foundation has chalked out elaborate programmes through its national network of volunteers and local community leaders. "Tree plantation is a way of giving back to nature and expressing gratitude in lieu of utilizing the natural resources by human beings", said a message by Syedna read out at Birla Matoshree in Mumbai.
Trees will be planted in Dawoodi Bohra Masjid complexes, community centers, sanctuaries and drive-ways across 700 cities, towns and villages where the Dawoodi Bohras reside world over.
Early last year the Burhani Foundation successfully distributed 52,000 sparrow feeders to arrest the decline of the number of sparrows world over. Another major environment friendly initiative by Syedna is in supporting the Saifee Burhani Upliftment Project at Bhendi Bazaar, Mumbai where 4000 families will be resettled in green buildings that will have water harvesting, solar energy, sewerage treatment facilities and green areas for children.