The Dialysis Centre at HBS Hospital is reaching out to the poorest of the poor, offering world class service at reasonable cost.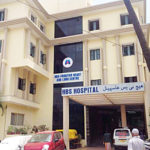 By A Staff Writer
Bengaluru: The Dialysis Centre of the Hazrat Bismillah Shah Hospital organized the "World Kidney Day" programme on April 17, 2016. The Mayor of Bengaluru, Manjunath Reddy was the chief guest at the programme. The Dialysis Centre which was commissioned with installation of four dialysis machines on October 8, 2013, now has 35 machines. Every month, around 2500 dialysis are performed, and the number of patients has also gone up to 230. The HBS Hospital Dialysis Centre offers 1200 free dialysis every month to the patients. Today, this hospital is one of the most courteous and charitable hospital that is reaching out to the poorest of the poor patients. Not confining itself to only dialysis, the hospital offers monthly rations to 14o patients , which contains a bag of rice, wheat flour, oil and sugar. Many expensive medicines are also given to the patients at very nominal cost. The Dialysis Centre has also opened its heart out to support families of patients who require school fees for their children, and financial support for eye operations and other surgeries. During the month of Ramadan, the dialysis is free for all and eid ration kit is also gifted to the patients. The cost of one session of Dialysis here is Rs 670. Dr Taha Mateen is the CEO of HBS Hospital, while Dr Zafar-ul Haq is the Director of the Kidney Dialysis Centre.
For more details, contact, Dr Zafar-ul Haq, Director, Dialysis Centre, HBS Hospital No. 58, Cockburn Road, Shivaji Nagar, Bangalore – 560001, Near Bamboo Bazaar. Ph: -25541321, 25555500, 25555501, 25555502.