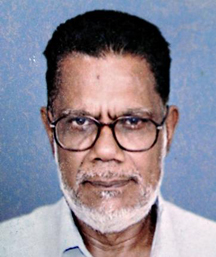 Bangalore: Noted social worker and writer Hafiz Shamsul Huda was murdered on July 3 by unidentified persons. A sincere and honest person, Shamsul Huda was running the Al-Quds Cooperative Society which helped hundreds of people in Bangalore's socially blighted area of K. G. Halli and D. J. Halli during the last three decades. He also ran a newspaper Al-Quds for several years which closed down two years ago. He had brought out a new Urdu journal Makhzan recently. Both journals popularized simple concepts and provided insights on national and world affairs.
A Hafiz from Madrasa Bakhiyathus Salihat, Vellore in Tamil Nadu, he was known for his work among youth and the poor people. He himself led a very simple life and took up causes that would remedy the social and economic ills. He also contributed a few columns to Islamic Voice during 2010-11.
He had reached his office in Eidgah Jadeed Complex on Tannery Road on July 3 morning around 7-30 am as was his daily schedule. He would engage himself in reading of newspapers for a while till people seeking loans or making payments would start arriving by 9-30 am. But when his staff members arrived by 9 am on July 3, they found him killed and body lying in a pool of blood. The police took up investigation after visiting the scene. Karnataka Home Minister K. J. George and MLA from Shivajinagar Mr. Roshan Baig also visited the spot. Money and pledged ornaments from the office were found looted.
He had initiated organizing the depositors of Amanath Cooperative Bank whose money is held up in the Bank facing crisis due to RBI moratorium on its transactions following huge pile up of debts by defaulters. Incidentally, money from his Al-Quds Cooperative Society too is stuck with the Bank, a branch of which (i.e., Amanath Bank) is located right under the row of offices amidst which Al-Quds is situated. The Society was facing crisis due to its deposits being held up with the Amanath Bank.
Shamsul Huda realized the need for organising the underprivileged on modern lines through promotion of modern education, skills and entrepreneurship and was seen ever active in these fields. He was also vice president of Bahujana Samaj Party in Karnataka for the last few years. He was the main backer behind the Aasra Home for the Women in Lingarajapuram area of the city which is a short-stay home for destitute women and deserted wives. His death has come as a huge loss to the community.
He leaves behind his wife who is bed-ridden for the last 18 months. He had no children. He was laid to rest in Tannery Road graveyard by a mammoth body of mourners the same evening.