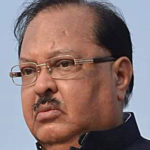 Qamarul Islam, MLA representing North Gulbarga and former minister of Karnataka died in Bengaluru on September 18 after being hospitalized for a few days. He was 69.
Qamarul Islam was first elected to the Karnataka Assembly in 1978 on Muslim League ticket. He was subsequently elected five times from the seat on Congress ticket. He joined Janata Dal for a brief period and was elected from Gulbarga seat for the Lok Sabha for the 1996-98 term. However, he quit Janata Dal thereafter and rejoined Congress Party. He was inducted into the state cabinet by Mr. S. M. Krishna for the first time. He again served as a cabinet minister under Mr. Siddramiah but was dropped in 2016. He resented it and there were rumours of his intention to leave the party. However, he was assigned the secretary ship in the All India Congress Committee and was put in-charge of affairs of the party in Kerala which he visited a little before his death.
Qamarul Islam was born in 1948 in a family which had come down from Gujarat and settled in Gulbarga. His first victory in election was stunning as he contested on Muslim League and trounced a veteran Congressman, Mohammad Ali who was transport minister under Chief Minister Devaraj Urs. This led to the Muslim League fielding 18 candidates in the 1982 elections in the State, resulting in defeat of several Congress candidates in the Assembly election from Muslim dominated seats and advent of the first Janata Party (later rechristened Janata Dal) government headed by Mr. Ramakrishna Hegde.
Qamarul Islam had earned a degree in engineering and was an avid sportsman. He set up Kallerawan Charitable Trust and an engineering college, a pharmacy college and a teachers training college under it in Gulbarga. Several of his siblings ran a string of educational institutions in the city. Since he had no offspring, he adopted a boy Faraz ul Islam. He was buried in Gulbarga on September 19 after a funeral attended by thousands of mourners.