By Abdul Adil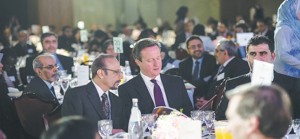 London: Prime Minister, David Cameron, joined over 800 people to celebrate the very best of Muslim contribution to British society. The 12th, The Muslim News Awards for Excellence, 2014, Britain's longest standing Muslim awards event, was held in central London on March 31.
The Guest of Honour, Cameron, said, "I'm delighted to have taken part in this year's Muslim News Awards for Excellence, where we were able to champion and celebrate the huge contribution British Muslims make to our country. I was truly impressed hearing about the extraordinary work of the nominees and winners, and it was great to have been able to meet some of them tonight." Cameron praised the charitable work Muslims are doing in the UK. "Muslims give more to charity than any other faith group. And they play a huge role in our communities, day in, day out."
He also acknowledged the Muslim communities' role in helping the victims of the floods in winter. The young Muslims from Huddersfield "got together with other faith and voluntary groups in Worcester, protected a church in Surrey from the deluge, and showed above all that our British community spirit could never be dampened."
"The Government is also tackling Islamophobia and it means making absolutely sure that no person is held back from living their life or reaching their goals simply because of the faith they follow," said Cameron. There are concerns within the Jewish and Muslim communities that religious slaughter may be outlawed. However, Cameron promised that "while I'm Prime Minister of this country, Halal is safe in Britain."
Welcoming the guests, including the Prime Minister, Editor of The Muslim News, Ahmed J Versi, praised the shortlisted nominees. "You are the reason we are here tonight. Your creativity, dynamism and enthusiasm to make a difference, is what we are here to celebrate tonight. As in previous years, we have been humbled by the quality and the quantity of entries for each award category."
Versi said despite the disproportionate focus on bad news reporting when it comes to Islam and British Muslims, "it is all the more important that we should honour good practice, and celebrate the exemplary work of the illustrious men, women and children present among us tonight."
"There are countless individuals and organisations striving to make a difference to the way Muslims are perceived and portrayed in our society. This award ceremony is one way to ensure that their contributions are not marginalised or overlooked," he added.
In a message to the awards, Opposition Leader, Ed Miliband, said: "Tonight's awards ceremony is an opportunity to celebrate the great talent shown and contribution given by Muslim people in all walks of life.
"The awards recognize not only excellence in business, sport, arts and technology, but also those who have served their communities selflessly. It is a true celebration of values core to our country, of community and commitment, of education and learning." Deputy Prime Minister and Leader of Liberal Democrats, Nick Clegg, said in his message: "The Muslim News Awards for Excellence has become the flagship event for Muslim communities in the UK highlighting British Muslim contributions to society which might otherwise go unrecognized".
Amongst the other 15 winners were, in sport, Mo Farah, Olympic gold medalist, who is also involved in various philanthropic initiatives, in the media, Roohi Hasan, a senior producer at ITV News, the children's award went to 10-year-old, Ahmed Saleh, who has won numerous kickboxing and freestyle karate titles at the national, European, and global levels.
All winners received a intricately designed brass astrolabe, the iconic image of the twelve year old awards ceremony. The astrolabe was a highly developed tool used throughout the Muslim world to measure the altitude of stars and planets. By the eighth century, it was used to aid navigation, calculate the lunar calendar and to assess meteorological conditions.