Bangalore's Ashiana Food Bank, managed by Al-Aman Educational and Welfare Trust""Mohammed Farooq is its Founder Chairman and Amina the Trust's Secretary""is a beacon of hope for the poor and the hungry, who can pick up a hot meal from there every day""free of cost!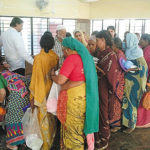 By Nigar
Kindness, compassion and caring for the poor were values that Mohammed Farooq learnt in his childhood. His father, an Arabic scholar and a successful businessman, taught him the virtues of a simple life and of cheerfully adjusting to hardships. His mother never let any guest leave their home without insisting that they eat. Farooq, 50, got the best of spiritual lessons at home from his parents. Today, these values help him lead a very meaningful life, by reaching out to the poorest of the poor through the Al-Aman Educational and Welfare Trust that he and some likeminded friends set up in Bangalore 1995.
Helping the Young and the Old
"We can't expect the government to do everything for us. We need to work with the government and also take initiatives ourselves to improve things around us", Farooq says as he talks about some of the impressive work that Al-Aman Trust has done over the years. One such activity is the adoption and development of some government schools in Bangalore, such as the Haji Ismail Sait Urdu school near his centre in Frazer Town. At one time, the school had reached such a dismal state that its student population had dwindled to less than a dozen. But with the help and support from this community development Trust, today the school has some 600 students, Farooq explains.
It's not just the young who have benefitted from Al-Aman Trust's work. The Trust runs the Ashiana Old Age Home in Kanamangala Palya in Devanahalli Taluk, a haven of peace and comfort in their sunset years for some 45 elderly people, many from very economically poor backgrounds, including several who have no children or are unmarried or have been abandoned by their families or otherwise have no source of support or shelter.
Conducting medical health camps in one of the most impoverished areas in Bangalore, the D J Halli slums, gave many learning lessons to Farooq. At one such health camp in 2016, the doctors observed that women and children in the slums were extremely malnourished. Farooq listened to some heart-wrenching stories, about women who were the sole bread winners of large families and who barely managed to eke out a living doing odd jobs while their kids just wandered around in the slums. With a paltry income, the women had no means to provide healthy food to their children or to themselves.
Why Waste Food?
"The thought that so many people were deprived of food really hurt me," Farooq says. "One day, I was with my friends sipping tea when I spotted a worker from a restaurant throwing a big vessel full of rice into the garbage at the end of the day. When I asked him why he was doing that, he said that the food could not be kept till the next day. Now, that amount of rice was sufficient for more than 30 people and I thought what an awful waste it was, given that there were so many people going around hungry with not even a single properly meal a day. That led me to the idea that if the food could be refrigerated, at least it could be consumed by some hungry person. There are many restaurants around where my centre is located, and I thought I could request them to collect the leftover food every night, which could be packed and refrigerated and then be picked up and eaten by those in need".
The next step in the process was to procure a small glass-paned refrigerator, which was installed in an open shed right on the main road on Frazer Town's busy Mosque Road, that is lined with several eateries, big and small. The basic idea, says Amina, Secretary of Al-Aman Trust, is that restaurants can arrange for their left-over food to be kept here every evening so that hungry people can just open the fridge and take what they want to eat. Excess food from weddings and other functions can also be kept here so that at least someone can eat it""free of cost of course""and so it is not wasted. That's how the Ashiana Food Bank came into being.
Free Food Packets to Dialysis Patients
Not long after the food bank started, Dr. Zafar, chief of the Dialysis Unit of HBS Hospital in Shivajinagar, which caters mainly to patients from economically vulnerable families, got in touch with Farooq. From him Farooq learnt that many patients at the hospital had no money even for the transport to come twice or thrice a week for dialysis. "The patients and their families could hardly afford the fresh, healthy food that's required by the patients, especially after each time that they receive a dialysis", Farooq says. Witnessing their condition, the trustees of Al-Aman Trust decided to arrange, with the help of some donors, for nutritious food to be cooked twice a day and delivered, fresh and hot, to HBS Hospital's Dialysis Unit""free of cost, along with a bottle of mineral water. The 60 boxes sent in the morning and the same number in the evening benefit 120 patients and some of their attendants, six days a week!
Along with this, twice a month, volunteers of Al-Aman Trust serve food at the Kidwai Memorial Institute of Oncology, one of Bangalore's leading cancer hospitals, to 500 patients and their attendants, many of who come to the hospital from far flung towns and villages for treatment.
The menu, which is vegetarian, varies from day to day. One day it could be pulao and raita. Another day it could be tamarind rice, or khichadi. The food is prepared by R. K Caterers, who, Farooq says, insist on charging just the cost price, without making any profit at all, as a form of service to God.
Service Above Religion
Another 150 boxes of food are kept aside every day of the week at Ashiana Food Bank Centre, on Frazer Town's Mosque Road, for poor, hungry people, irrespective of caste or creed. They can just drop by, any time after 1 pm and till late in the evening, and pick up a box, free of cost, of course.
It costs about Rs. 3500 per day for preparing the food. Currently, there are 17 donors, each of who contributes this sum once a month for meeting one day's expenses. Farooq hopes that more such donors will join in, so that the cost of the meal for all days of the month can be covered.
Farooq and Amina are a gentle, soft-spoken couple. Their sincerity, compassion and good cheer are palpable. "You need to go out into the world to understand people and their problems," says Amina. "My dream is to help at least 2000 poor and needy people should eat healthy meals every day. I pray to God to make this possible," says Farooq.
If you wish to help or know more about the work of the Al-Aman Educational and Welfare Trust, you could drop in to meet Farooq and Amina and see their noble work. You could contact Farooq on [email protected]
Ph: 9740125500 or 9964908600.
You could also see the Trust's website: www.ashianahome.org