Most Japanese work for 14 to 15 hours. One feels guilty if he comes away from work early.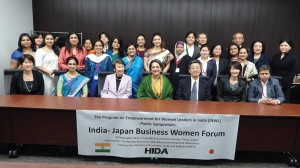 Bengaluru: Ms. Benazeer Baig, founder-secretary of the Raza Educational and Social Welfare Society, attended the week-long conference on 'Promoting Women's Empowerment as a Growth Strategy' in Tokyo held between November 17 and 21, 2014. She was one among the 17 delegates selected to represent India by the Overseas Human Resources and Industry Development Association known by its acronym HIDA.
Ms. Baig shared her experiences with Islamic Voice. Excerpts:
The conference focused on sharing know-how with business leaders in Japan. The conference was held in Kenshu Centre in Tokyo. Among the leading delegates from India were Shilpa Pophale from Pune, Vinita Shaw of Sandhar Technologies; Vanitha Datla, executive Director of Elico Ltd; Nirmala Junko Teiva, Green Japan Ltd, Tokyo; Mr. Chellappa Sriram of Nihon Technology etc. Yumika Nakane, Cybozu Inc. Japan and Prof. Yoko Ishikura were the moderators.
The Program on Empowerment for Women Leaders in India (INWL) is one of such management training programs. Being organized in collaboration with the Confederation of Indian Industry (CII), this program is mainly designed for women executives and senior management in Indian companies to encourage their awareness on diversity management as well as to enhance their leadership qualities.
Few Women CEOs
What I observed in Japan is that very few women are represented in the leadership positions in Japanese businesses. Most women leave their jobs after marriage and come back to the offices or workplaces only after their children have grown up. There is this strange law of women's salary getting doubly taxed if both spouses are working.
They work for 14-15 hours
Most Japanese work for 14 to 15 hours. One feels guilty if he comes away from work early. Their style of strike for putting their demands is also very strange. I heard that in a shoe manufacturing company, the workers went on strike by producing only one shoe in each pair. So the work went on the factory floor and the production was not affected. But the factory owner could not proceed with packing the shoes for sales unless the other shoe of the pair was available. Ultimately he had to negotiate with the workers before they agreed to make the other shoe of each pair.
Sales with Service
Japanese are extremely honest in their customer relationship. They have their own strategy for sales. They will not agree to sell their products to anyone in the first instance. They will study the client, his business, audit reports, examine his sale strategy and brand value. This will consume a good chunk of time. If ever they agree to get into business relationship, they will offer their products, service, spares and maintenance. Their representative will come down to the client's country and survey his facilities. It is possible that he may refuse to get into any business relationship if he is dissatisfied.
CEOs are Early Arrivers
The CEOs of the companies do not sit in their cabin. They keeping roaming over the factory floor and work with the workers. But when it comes to business meetings, CEO's chair is well marked just as his host's is. Their furniture is so designed that it could be put to multiple use and can be wheeled anywhere. It can turn into a table, shelf, drawing board etc. CEO is the first one to arrive at a factory or office and the last one to leave.
No Nay-sayers
Japanese find it difficult to say 'No'. So one must phrase his questions in such a way he could say 'Yes'. While talking, the Japanese do not have eye-to-eye contact. They are used to remaining silent for long period of time. Japanese do not want to confront others nor enter into argument. They have developed a mindset not to hurt others.
Brand Conscious
Japanese are very brand conscious. They have a critical eye for detail. They leave no room for errors in their services and flaws in their products. All products come with user manuals.
No Hazards
Their cities and infrastructure is meticulously planned. Though Japan experiences around 1,500 earthquakes on an average annually, most infrastructure is designed to absorb shocks. There is no noise pollution. Very few people own cars even though they used to produce them in very large numbers. The country witnesses very few accidents.
(As narrated to Staff Writer)