'Country is being Pushed under Corporate Fascism'
Moulana Sajjad Noamani and Justice Kolse Patil warn against lengthening shadows of authoritarianism and fascism.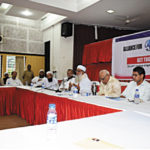 By A Staff Writer
Bengaluru: MaulanaKhaleel Sajjad Noamani, Convener of the Alliance for Justice and Peace, has called for cooperation among all sections who are opposed to the 'Corporate Fascism' in the country. Addressing a large gathering of intellectuals here on September 29 at the Agricultural Technologists Association Hall, Noamani said Muslims, Dalits, OBCs and all progressive-minded and enlightened citizens should come together to resist the country's downward slide from the path of social justice. He said the current dispensation was following the agenda of corporate and was bent upon bullet trains and statues that serve little purpose while ignoring the people's basic needs.
Noamani warned that the country was being pushed under an authoritarian mode by the Sangh Parivar and the media has been bought over by the corporates who have vested interest in enslaving the people.
He said media boycotts all such news items that highlight alternative viewpoints.
He said frustration was building up among several sections of people and they were gradually gravitating towards forces upholding peace and justice.
Justice Kolse Patil, former judge of the Bombay High Court, said one should read Manusmirti as to what system was desired to be established in India. He said Hinduism and Islam had no conflict. Similarly, the tussle within India should not be viewed as one between Secularism vs. Communalism. These were never the axis for conflict. The main conflict was between a set of people who were trying to impose fascism with the help of the corporates by ignoring the issues of roti, kapada and makan.
He pointed out that Manuwadi forces were trying to suppress the rights of the people.
Dr.Mahboob Awad welcomed the gathering and said the Alliance stood for elimination of all kinds of terrorism and restoration of faith in the Indian Constitution.