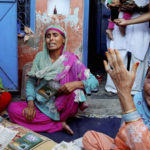 New Delhi: Human rights NGO Amnesty International India has launched an interactive data website for keeping a track of, and documenting hate crimes across the country. "The first step to ensuring justice and ending impunity for hate crimes "" where people are targeted because of their membership of a particular group "" is to highlight their occurrence," said Aakar Patel, Executive Director, Amnesty International India.
In 2017, an alarming number of alleged hate crimes "" including assault, rape and murder "" were reported against people from marginalized groups, especially Dalits and Muslims, the Amnesty International said as it launched the website named 'Halt the Hate'.
"Our website aims to draw attention to some of these crimes by tracking and documenting them. Dalits have been attacked for merely sporting moustaches, and Muslims lynched for transporting cattle. Dalit women have been branded as witches, and raped and killed," Patel said.
'Halt the Hate' documents alleged hate crimes against Dalits, Adivasis, members of racial or religious minority groups, transgender persons, and other marginalised people which are reported in mainstream English and Hindi media.
It documents 141 incidents of alleged hate crimes against Dalits and 44 against Muslims in 2017, including 69 incidents of killings where at least 146 people were killed. 35 incidents were found where women from these groups or transgender persons faced sexual violence. The website documents alleged hate crimes from September 2015, when Mohammad Akhlaq was killed in Dadri, Uttar Pradesh, for allegedly possessing beef. Cow-related violence and so-called 'honour killings' were among the common instances of the hate crimes.
Uttar Pradesh was the state with the most such incidents in 2016 and 2017. In 2016, 237 alleged hate crimes were recorded. Uttar Pradesh, Haryana, Tamil Nadu, Karnataka and Gujarat recorded the most incidents. Patel said that the extent of hate crime in India is unknown because the law "" barring some exceptions "" does not recognize hate crimes as specific offences.
"The data on our website is just a snapshot of alleged hate crimes in India. Many incidents are not reported in the media. While criminal investigations have been initiated in some cases, too many have gone unpunished," he said.
He said police needed to take steps to "unmask any potentially discriminatory motive" in a crime, and political leaders must be "more vocal" in denouncing such violence.