In an unique operation, a 240-year old heritage monument was moved 100 metres away from its original base at Srirangapatnam.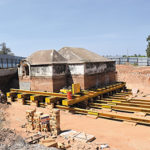 By Maqbool Ahmed Siraj
For the first time in India's archaeological history, a heritage monument was relocated 100 metres away from its original base. The unique operation was undertaken at Srirangapatnam, the capital of Tipu Sultan's Mysore kingdom (1761-1799 CE). His underground armoury was transferred to the new location to make way for a railway line. An American company, PSL-Wolfe Private Limited, was engaged for the purpose by the State Archaeological Department and South-Western Railway at a cost of nearly Rs. 14 crore.
Track Doubling
The armoury was located near the Bangalore-Mysore railway track within the Srirangapatnam railway yard and was coming in the way of doubling of the rail line between the two principal cities of Karnataka. The double track was ready between Srirangapatnam and Bangalore. The frequency of the train between the two cities was not being increased for want of double track on the 15-km last leg.
Built in 1787
The 12-metre square armoury is a lime and mortar structure which was half buried inside the ground inasmuch as only its conical top and a part of its entrance was visible on the ground. It was built during Tipu's regime, around 1787, when he was engaged in constant wars with the British. It is a 10-metre tall structure and weighs around 900 tonnes.
Moved on Jacks
The work on relocation began in September 2016 when a team of six engineers of Pennsylvania based PSL Wolfe company arrived in Mysore and took up the work. The team excavated the area around and removed hundreds of truckloads of mud to expose the base of the armoury. It then began inserting girders and jacks beneath its base. When this scribe visited it on March 6, it was standing on girders and sturdy beam. Rollers with hundreds of small wheels were being inserted over the girders in order to slowly roll the structure over a 100-metre distance on rails. The operation was completed on March 10.
An alternative spot for relocating the structure was readied. Mr. Keshavamurthy, Assistant Executive Engineer of the South Western Railway, informed that the relocated monument will be standing at the same depth as earlier. He said while the monument will be moved by March 10 (which has been accomplished now) to its new base, other work (putting back the excavated earth etc) will take another two months so that the old spot gets ready for laying the railway track.
The shifting of the armoury and the doubling of the rail track would reduce the travelling time between Bangalore and Mysore by 15 minutes and allow the Railways to introduce more trains between the two cities.